Middle Grade Feature Author & Book: Eisley Jacobs and her book Born to be a Dragon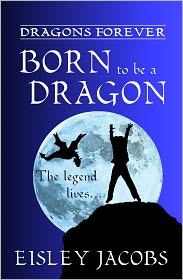 Eisley Jacobs is one of the few middle grade authors I actually know and she was kind enough to let me interview her about her mg book for this month's topic. Here is the interview, enjoy!
How long have you been writing?
I think I've been writing since around the fifth grade. Seriously though, I was writing in spiral notebooks and creating stories for my peers to read. Poetry and actual stories that were probably rubbish, but I loved to write.
Sounds like fun. Rubbish is a good start, I know my first poems were just that, lol.
What is your book about?
BORN TO BE A DRAGON is about the epic friendship between a ten-year-old dragon and a ten-year-old girl. It's a book about following your dreams and not listening to what the "world" says… It's an amazing adventure for all ages.
Sounds awesome. I'm looking forward to reading the book.
Where did you get the idea for your book?
You know, a lot of people ask that and I really don't have an answer. Story ideas come from many places and this one just happened to come at a time that I was ready to write it. My children love this story (as do many others) and it was just the right time.
Makes sense. Some ideas are hard to pinpoint an origin to but it's good you have a wonderful audience (your children). I remember hearing about them and the book on twitter. And when you published it that made things even better.
Publication story: What publication route did you go and how did you go about getting there?
I queried BORN TO BE A DRAGON (under a different name) at least 80 times. Sent a few fulls and a few partials and no one really wanted it right then. One agent said it wasn't the right "time" for this type of story, while another said that she just couldn't take on another dragon story. So I did my research and decided CreateSpace was the right place for me and I haven't been disappointed.
I'm glad you found a route that works for you. Have heard some good things about CreateSpace too. Now, let's talk about other people's books.
What books do you like to recommend to others?
If you are reading in my genre, middle grade, I would recommend Chronicles of Narnia, Percy Jackson, Series of Unfortunate Events, The Secret Series and 39 Clues ;)
Haven't read any of them but I have heard of most, surprisingly. Genre time!
If you could write in any genre, which would you do?
I've never been asked this question, but I would honestly have to say I am doing it now. Middle Grade and Young Adult are fabulous genre's and I will probably write them forever. I just love the audience and the reactions I receive. It's really just awesome.
Great that you found something you can write and continue to love.
Is there a genre you wouldn't write in?
Probably adult fiction. I just can't relate to it as a kid at heart.
Ah, okay. That's a good reason and we each have our own comfort zones in writing.
Do you have a project(story) you are working on now, or want to start working on soon?
I am currently working on Dragons Forever 2 and when it's done, I will hopefully be doing a final read through of RINGS OF TIME, a YA Fantasy Novel.
Thank you Eisley for taking the time to let me interview you. Can't wait to read your book some day. People check out this author, you won't regret it.
Where online can the wonderful readers find you and your book?
http://EisleyJacobs.com/blog/
http://www.amazon.com/Dragons-Forever-Dragon-Eisley-Jacobs/dp/1456360965/ref=sr_1_1?ie=UTF8&qid=1316412100&sr=8-1
http://www.barnesandnoble.com/w/dragons-forever-born-to-be-a-dragon-eisley-jacobs/1104199721
and
https://www.createspace.com/3504302